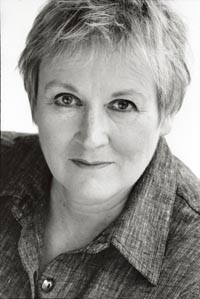 Annie studied Drama and Theatre Arts at Birmingham University before training at Drama Centre London. She worked as an actor extensively in regional theatre where her work encompassed Shakespeare, Shaw, Ibsen, Coward, Restoration Comedy, Brecht, Ayckbourn, Rudkin, Willy Russell, Caryl Churchill, musicals, pantomime and verbatim theatre. Work in London has included new plays on the Fringe, being a founder of two new writing companies, one of which, Direct Current, was set up to produce new music theatre and work at the Old Vic and the Young Vic. Her TV work has included Juliet Bravo, Coronation Street, Brookside, Damon and Debbie, Diverse Reports, The Fourth Floor and 40.
Annie has always been committed to actor training and has worked in many major drama schools as well as in Paris and Portugal as one of the founder tutors of the Pieta Project which created a young company of actors from the UK, France, Portugal, Italy and Romania. She was a visiting lecturer/tutor at the Carnegie Mellon School of Drama in Pittsburgh, giving master classes in Restoration Comedy which is a particular area of interest for her. For the last 10 years Annie has worked substantially at Drama Centre London (alumni include Colin Firth, Michael Fassbender, Tom Hardy, Anne Marie Duff, Geraldine James, Frances de la Tour, Simon Callow, Pierce Brosnan, Penelope Wilton, and more recently Emilia Clarke, Lucy Briggs Owen, Jodie McNee, Bradley James , Natalie Grady, Florence Hall and Orlando James.) From 2002 until July 2010 Annie was the Course Director for the BA Honours Acting Course at Drama Centre where she taught acting and directed across all years in the school. Her final year productions have included Schiller's Mary Stuart, Wild Oats by John O'Keefe, A Laughing Matter by April de Angelis, All's Well That Ends Well, Love's Labours Lost, Richard III and most recently, A Winter's Tale and A Cure for A Cuckold.
As a freelance she continues to work at Drama Centre and the Royal Academy of Dramatic Art as well as now pursuing her acting and directing career and has appeared recently at the Octagon Bolton in the 25th anniversary revival of The Enemies Within, A Streetcar Named Desire and Love On the Dole. Recent film work has included the independent film Conversations and directing projects have included The Beaux Stratagem at RADA and The Dog In The Manger by Lope de Vega at the Drama Centre. In the late Spring Annie directed The Relapse at RADA.
Annie Tyson was a tutor in: 2012