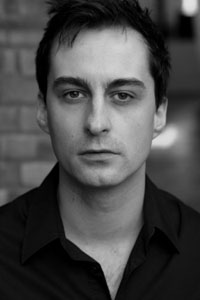 Tony is currently an Associate Director at the Mercury Theatre, Colchester. He is responsible for the theatre's community and education programme for which he has directed numerous community and youth theatre shows. Other directing includes the Mercury Theatre Company productions of The Grapes of Wrath, The Angina Monologues (Slammers), The Promise, Journey's End and Through the Leaves.
Tony recently appeared at the Mercury as the title role in Captain Corelli's Mandolin, having previously appeared in King David, Man of Blood, David Copperfield, Our Country's Good, Betrayal, Three Heads in the Well, To Kill a Mockingbird, Slammers 2, The White Devil, Slammers, Romeo and Juliet, The Europeans, The Tempest, The Caucasian Chalk Circle, The Provoked Wife, The Duchess of Malfi, Look at Me, Richard III, The Crucible, Kiss of the Spiderwoman, Uncle Vanya and What the Butler Saw.
Other theatre work includes Artistic Licence (Plymouth Theatre Royal), Peter Pan (Nuffield Theatre, Southampton), From Blusher with Love (Channel Theatre Company), Judas Worm and Bohelland (Cornish Theatre Collective) and The Sorcerer's Apprentice (Orange Tree, Richmond).
Radio and television includes A Pig Too Far (BBC Radio 4) and Turn the World Down (Channel Four), both of which Tony co-wrote. Turn the World Down was nominated for a Golden Rose at the 2002 Montreux Television Festival.
Other writing includes Martha and Mary and The Smithereens, which were both produced in the Mercury studio as part of the theatre's occasional new writing project Slammers.
Tony Casement was a tutor in: 2012