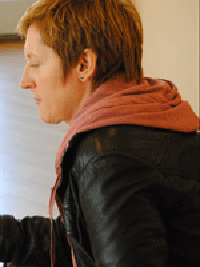 Following her initial training at Bretton Hall College Janice has trained with a variety of practitioners including dance therapy with Wolfgang Stange, mask work with Geese Theatre, physical theatre with Odin Teatret, Denmark, Grotowski and directing with Eugenio Barba and movement/ mask with the Royal Shakespeare Company's Sue Lefton. Janice has worked as a director and choreographer with professional companies, students and youth theatres.
She was associate director at the Belgrade Theatre, Coventry (1996 -99) where she was responsible for all the community, education and T.I.E output. Janice also directed several main house and studio shows there including 'Chicago' and 'Guys and Dolls' , 'Cinderella', 'Sleeping Beauty', 'Jack and the Beanstalk', 'Boyband, 'Road' and 'It's a lovely Day Tomorrow'.
In a similar role at the Mercury Theatre, Colchester, Janice has continued with all these strands of work. For the main stage there she has directed many pantomimes; 'Babes in the Wood' ,'Jack and the Beanstalk', 'Dick Whittington,''Cinderella', (these last three she also choreographed) 'Dick Whittington and the Pi-Rats of the Caribbean', and 'Cinderella' (again!). She wrote both 'Dick Whittington's and both 'Cinderella's plus 'Aladdin', 'Sleeping Beauty' 'Aladdin', Beauty and the Beast and a new Jack & The Beanstalk for 2012. She directed and devised Eve Ryman, a collaboration between performers from Poland, Italy, Bulgaria, Denmark, Macedonia and England. She has also directed Arthur Miller's A View From The Bridge, Coward's 'Present Laughter', 'The Europeans' by Howard Barker, 'Oh What a Lovely War' , 'The Triumph of Love', 'Road' and 'The Resistible Rise Of Arturo Ui', 'Habeas Corpus' , the premiere of 'Wagstaffe the Wind-up Boy' a new play for children for the Mercury, and 'Catastrophic Sex Music' by Bysshe Coffey, a new physical theatre verse play, for the Mercury and Theatre 503, London, (This also played at the Latitude Festival),'Sound of a Hammer 'at Birmingham Rep, 'Goldfish' at the Liverpool Everyman, 'Jack and the Beanstalk and 'Alladin' at the Roses Theatre, Tewkesbury and'The Force of Change' at the Royal Court. She also wrote and directed a new writing project in the Mercury studio entitled 'Slammers'. With her own company Mad Half Hour (see madhalfhourtheatre.com) performed her own show 'Camped Out' at the Edinburgh Festival in 2002 and Janice co-directed and co-wrote 'The Boy with the Bomb in his Crisps'with Lyndi Smith. This was in co-production with Belgrade Coventry and Mercury Colchester Theatres. Chris Bearne (ex Summer school participant and course administrator, now professional actor) was in the cast! It was based on hundreds of interviews with people who had journeyed to the UK to live and work over the past 50 years. Mad Half Hour has also been working with the Arts Council England funded Creative Partnerships project to offer creative input, training and consultancy within schools and colleges. Also wrote "Sidste Sommer", (Last Summer), with Maria Lohmann,a new play for young people, published and performed in Denmark.
Janice Dunn was a tutor in: 2004 2005 2006 2007 2008 2010 2013 2014 2015 2016 2017 2018