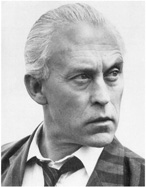 Obituary, published from The Stage Tuesday 23 August 2005 at 10:20 by Charles Vance
On July 5 the theatre lost one of its unique talents with the passing of 70-year-old Anthony Cornish, who, having succumbed to motor neurone disease, died at Denville Hall.
Born in 1935, Anthony was the son of a dance band pianist. His father insisted that he had training in Received Pronunciation and it was that early training that prompted him to seek a career in the arts. His first employment in the early foifties was in the BBC Record Library and during his National Service he became a broadcaster for Forces Broadcasting. On return to "civvie street" he went as a fledgling stage manager into weekly rep in Gainsborough and within weeks was promoted to stage director, staying on his starting salary of £4.10.
He made a career move as theatre director, for little more money, to Chesterfield Civic Theatre, and transformed it by introducing fortnightly rehearsals as well as employing his future wife Linda Polan, who has always insisted that she owed the development of her talents to his directorial skills.
Soon he returned to the BBC as head of radio drama in the Midlands for a decade, later to become director of a new drama department at Capital Radio.
Whether as director of productions or a brilliant tutor at the British Theatre Association, thousands of actors, professional and amateur, owed him a great debt for his commitment to them in their fledgling days. A brilliant metteur en scene, his productions in 1985 and 1986 of The Voysey Inheritance at Bristol Old Vic, The Alchemist at the Vanbrugh and Ayckbourn's Taking Steps won him great critical acclaim from the national critics. A great authority on the works of Ibsen, he did a memorable production of Peer Gynt with the students at the BTA.
His commitment to amateur theatre was unmatched and his courses for directors, founded in 1985 at the BTA, attracted pro & am students from all over the world as did his summer schools. He was a member of the editorial board of Drama magazine, on the Board of the International Amateur Theatre Association and, on the retirement of John Allen, he was appointed vice chairman of the BTA in 1989.
His work as a drama adjudicator took him to every corner of Europe, notably to the Federation of Anglophone Theatre Societies. The late Prince Rainier of Monaco awarded him a Legion d'Honneur for his services to amateur theatre. The news of the death of this remarkable talent prompted some of his American students to devise a website on which dozens of former students and professional colleagues have posted tributes and anecdotal memories. Linda, his wife for 42 years, and their son Simon take great comfort from that unique tribute - see www.celebrate-tony.com. Readers who knew Tony are invited to visit the site and post their own memories of him.
Anthony Cornish was course director in: 1988 1989 1990 1991 1992 1993 1994 1995