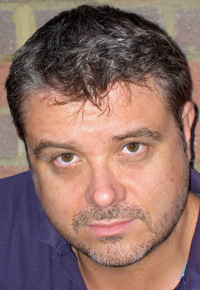 Keith trained at the Rose Bruford College of Speech & Drama gaining a B.A. Honours Degree in Theatre Arts and he has more than a hundred theatre productions to his credit having directed all styles of theatre from Ibsen to farce and Shakespeare to pantomime.
He regularly runs drama and directing workshops for amateur theatre groups all over the UK and Europe and directs and teaches in several London drama schools.
Last year he directed John Chapman's classic Whitehall farce Dry Rot for Ian Fricker Ltd. which toured No.1 UK theatres. Before that he helped re-direct and re-launch the tour of Agatha Christie's Murder On The Nile for Bill Kenwright Ltd. He has worked on various shows for Bill Kenwright including being Associate Director on the tour of Agatha Christie's Witness for the Prosecution. Previous projects for Ian Fricker include being Associate Director to Patrick Garland on Brief Lives with Roy Dotrice and Associate to Joe Harmston on Noel Coward's Star Quality. In the May of 2012 he was at Vienna's English Theatre where he directed the famous farce Boeing Boeing and he closed a busy year by directing Jack and the Beanstalk in Welwyn Garden City. In May this year he returned to Vienna to direct another Chapman farce; Key for Two.
Keith has been Artistic Director of several touring managements and was responsible for many UK tours including the farce Anyone for Breakfast? by Derek Benfield, Anybody for Murder? a comedy thriller by Brian Clemens and Dennis Spooner and the thrillers Murder by Misadventure by Richard Harris and David Whaley's Dead of Night and a comedy with perhaps the longest title in history; The Farndale Avenue Housing Estate Townswomen's Guild Dramatic Society Production of a Murder Mystery, about an ill-fated amateur production! Also two musicals for young people; Alice in Wonderland and Pinocchio and a string of musical comedy revues.
As Artistic Director of the Lyceum Repertory Theatre in Crewe he staged many productions including Martin Sherman's concentration camp drama Bent; Alan Aykbourn's Time and Time Again, Habeas Corpusby Alan Bennett, and Mike Leigh's famous comedy Abigail's Party. He has directed repertory seasons of plays all over the UK and favourite productions include Frederick Knott's classic thriller Dial 'M' For Murder in Billingham, Comfort and Joy a comedy by Mike Harding in Weston-Super-Mare and Deadly Nightcap by Francis Durbridge at the Theatre Royal, Nottingham.
Keith's London productions include; Carlo Goldoni's Comedia farce The Venetian Twins, Shakespeare's As You Like It, East by Stephen Berkoff, Jean Paul Sartre's Huis Clos, Ibsen's The Lady From the Sea, War Music by Christopher Logue, The Libertine by Stephen Jefferies, and Vincent (Van Gogh) written by Star Trek's Leonard Nimoy.
His work has taken him abroad many times, as well as the two farces in Vienna he directed Shakespeare's The Merry Wives of Windsor for The New World Theatre Club in Luxembourg, Agatha Christie's Spider's Web which toured Israel and a touring production of Bag Lady in Germany. He also produced a series of Les Miserablesconcerts in the UK, Dubai, Abu Dhabi and Pakistan.
Keith has a busy parallel career as an actor, this Christmas he played pantomime dame and last year he was in a long UK tour of Noel Coward's comedy Star Quality playing fading matinee idol Gerald Wentworth. In 2011 he appeared at Vienna's English Theatre playing the hapless Vic Johnson in the farce Funny Money by Ray Cooney and before that the outrageous Reverend Dicky Sainsbury in Michael Frayn's Donkey's Years.
His teaching experience includes working for:
The Arts Institute at Bournemouth

. Directing short scenes and monologues for their annual acting graduate showcase in London. 2008 & 9.

The British Theatre Association

, London.

Running courses on; Improvisation. Basic Acting. Building a Character. Directing Comedy. Performing Brecht. Acting in Modern Comedy and An Introduction to Directing for Amateurs.

British Theatre Association International Summer Schools

.

Luxembourg, Brussels and The Hague. Creating Characters and Plays through Improvisation and Physical Theatre.

Middlesex University

. Approaching Brecht.

Central School of Speech and Drama

. Approaching Brecht.

The Sylvia Young Theatre School

. Playing Shakespeare. Audition speech coaching.

The Actors Institute, London

. Playing Shakespeare.

Stagecraft Ltd

. Basic acting. Improvisation. Voice. Audition Technique and coaching.

The Blair Academy

. Improvisation. Playing Shakespeare. Voice.

Carlton College USA

. Voice and Movement for the Theatre.

The Academy Drama School, London

. Workshops/Masterclasses on; Acting Shakespeare, Directing, Pantomime, Voice, Audition Technique and coaching, Children's Theatre, Playing Restoration, Wilde and High Comedy. Productions of; Time and the Conways (J.B.Priestley), Hedda Gabler (Ibsen), Three Birds Alighting on a Field (Timberlake Wertenbaker), Masterpieces (Sarah Daniels), Absent Friends (Alan Aykbourn), How The Other Half Loves (Aykbourn), La Ronde (aka The Blue Room. Arthur Schnitzler), The Libertine (Stephen Jefferies). Easy Virtue. (Noel Coward), Touched (Stephen Lowe), The Rivals (Sheridan), Abigail's Party (Mike Leigh), Messiah (Martin Sherman).
Amateur Groups worked with include;
The New World Theatre Club,

Luxembourg. A Production of The Merry Wives of Windsor. Directing courses. Basic Acting courses. Approaching a text.

The Bern Amateur Dramatics Club

, Bern. Basic Acting. Voice and Movement for the Stage.

The Village Players

, Lausanne. Directing Course. Acting course. Approaching a text. Playing Chekhov.

The Embassy Players

, Copenhagen. Basic acting course.

The English Speaking Theatre Club

, The Hague. Directing high comedy. Basic Acting. Directing course.

Wooton Players,

Bedford. Directing Course. Basic acting course.

Milton Keynes Opera.

Building A Character in the Chorus.

Leighton Buzzard Players.

Voice production and projection. Movement for the stage.

Bugbrooke Amateur Dramatics Society

. Basic Acting, Building a Character.
Keith Myers was a tutor in: 1989 1990 2013